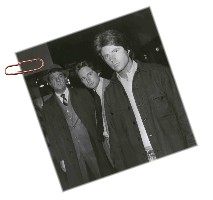 It was now the mid 80's and Rick Nelson had been in showbusiness for almost 35 years, but he showed no signs of slowing down. While his recent albums had not received the kind of popularity he hoped, or deserved, he was still a highly sought after entertainer and continued to perform live to sell out crowds across the globe. Shunning the type of cabaret style show that many of his contemporaries had done, he remained true to his music and to himself. He also continued to act, taking on many cameo roles in popular T.V. shows of the time, including stand-out performances in The Streets Of San Fransisco and A Hand For Sonny Blue. In many of these shows he played a singer and would often play his own music, most notably in The Hardy Boys and McCloud. His personal life was also looking brighter, he had begun a relationship with a girl who had come backstage to meet him after one of his shows, model Helen Blair. Helen was very good for Rick and it was quite clear to all who shared time with them that they were very much in love. In 1985 he began work on the second of his two album deal for Capitol records, sadly it remains an incomplete and un-released work in progress.

On the 30th of December 1985, Rick was playing at the nightclub of Pat Upton in Guntersville, Alabama. It was a small venue for Rick, but Pat was a friend. The next day he was due to fly to Dallas for a New Years Eve show. Despite a life long fear of flying, Rick had recently purchased a second hand, twin-engine DC-3 plane. At 14:00 on 31st December, Rick, Helen (now his fiancee) and band members, Bobby Neal, Rick Intveld, Andy Chapin and Pat Woodward, together with his road manager Clark Russel, boarded the plane and headed for the skys.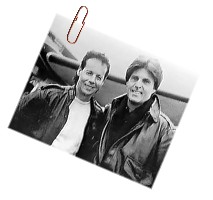 The first anyone on the ground knew of any problems with the flight was when the pilot reported that there was smoke in the cabin area of the plane. Shortly after he reported that smoke and flames had penetrated into the cock-pit and he was going to attempt an emergency landing. However during the landing attempt the damaged plane hit some power lines and trees and exploded into a ball of flame on impact. Luckily the force threw the pilot and co-pilot to safety. They attempted to rescue the passengers but were pushed back by the intense heat and flames. Emergency services arrived at the scene too late to save the seven souls on board. Upon entering the plane, investigators discovered that Rick and Helen were still strapped in their seats, with Rick shielding his fiancee. A final act of bravery and love.
Tragicaly the Nelson family would all hear of the tragic death of their beloved Rick from news coverage of the accident. Rick was laid to rest at Forest Lawns Memorial Park in Los Angeles on 6th of January 1986. A crowd of over a thousand people showed up to pay their last respects to a man who they had watched grow from a young boy. In the coming days a news report in the Washington Post reported that the crash may have been caused by the band members free-basing in the plane, a process in which cocaine is ignited. It was claimed that aerosol cans which could have been used for this purpose were found on the plane. It was later confirmed that no evidence of any drug abuse was discovered anywhere on the plane. Most of the aerosols were in the baggage area of the plane and this was a time when the use of aerosols for cosmetic use was at it's highest. It was also discovered that the cause of the fire was in actual fact a faulty heater on the aircraft. However the damage had been done and this final slur on the name of a man who could no longer defend himself, deeply affected his family.
Harriet Nelson never really got over the tragic deaths of her husband and youngest child. A wife and mother both on-screen and in real life, she removed herself from the publc eye untill her death in 1994 of emphysema and congestive heart failure.
David Nelson continued to work in movies and television both during and after the families T.V. show. He also turned his attention to directing including a thoughtfull documentary on his late brothers life entitled A Brother Remembers.
Tracy Nelson, Rick's only daughter, has also pursued the family business, becoming an accomplished actress in her own right. Amongst the many projects she has been involved in are: Down And Out In Beverly Hills and the T.V. series The Father Dowling Mysteries. She has also successfully battled with Hodgkins disease.
Identical twins Mathew & Gunnar followed their father into the music business, with several albums under their belts. There no. 1 hit (I Canít Live Without Your) Love and Affection put the Nelson dynasty into the record books as the only family of 3 consecutive generations with no. 1 hit records (Ozzie & Harriet having reached the spot decades earlier with And Then Some. They have also recorded an album of covers of some of their fathers biggest hits entitled Like Father, Like Sons.
Youngest son Sam toyed with the idea of becoming an astronaut before eventually embarking on a music career with the hard rock group h is orange.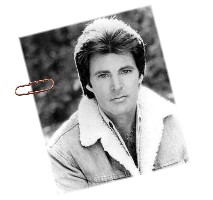 Rick Nelson was a man who spent his entire life in the glare of the media spotlight. He had acted on radio, televison and in movies. He had sung Rock 'N' Roll, Rockabilly, Country Music and Country Rock. He had refused to be pigeon holed as a teenage idol and continued to develop and grow as a respected and beloved artist up untill his untimely death at the age of 45. To us, his fans, he's not dead. He is merely on the road, where he was his happiest, playing to packed houses and leaving them craving more. His genuine sincerity, and soft spoken manner lives on through his recordings. Not a caricature of a time gone by, but a legacy of great music and wonderful memories.