Our club was formed in 1972, and is the only officially recognised Rick Nelson fan club in the world, with members from all over the globe. But though we may be going strong now for over thirty years; how it all began happened quite unexpectedly!

My wife and I had gone to see Rick and the Stone Canyon Band at the Liverpool Apollo in February 1972. Prior to going into the theatre, we went round to the stage door and made ourselves known to the Stage Manager (I told him that I was in Rick's fan club, even though it had unfortunately folded some 3 years previously, I had kept my membership card!!!) He told us that Rick hadn't arrived yet, and would only be doing so after the concert started, but that if we came round after the show, he would let us in to see Rick. That night Rick was superb! It was the first time I had seen him 'live' and we couldn't wait to see him afterwards.

Following the show, we duly made our way round to the stage door, to be confronted with a crowd of people numbering around 100. Not to be deterred, we pushed our way through them and knocked on the stage door. It opened a little, and they recognized us and ushered us in. We were told that Rick was still in his dressing room, so we waited in the corridor. His wife, Kristin came out shortly, and we introduced ourselves to her; and then shortly after Rick came out with Tom Brumley. He saw us standing there looking at us rather quizzically - and then smiled when I told him how I had managed to get in to see him. He said it was sad that the old club had folded, and that he now had no-one representing him in this way. He then stopped, thought for a second, and then said "...would you like to do it Andrew?" I was speechless for a few moments, and then stammered something like "I wouldn't know where to start". He told me that he would contact Geoff Thorn at MCA and advise him (if I said yes) to help me in any way he could to organize the club, and would also get his American club to do the same. How could I refuse! We then chatted for a few minutes longer before saying our farewells.What a guy. He was totaly unaffected by his fame, and my wife and sister-in-law were totally speechless and wide-eyed, unable to say more than "hello".

I duly contacted Geoff Thorn several weeks later, after I had contacted David Nelhams who ran Rick's previous club, and who is a good friend to this day. He sent me his list of previous members and I had a friend who had an old duplicating machine in his bedroom. I received 36 replies from old members, and the club has now got hundreds of members world-wide. including those from Australia, Japan, Canada, USA, Germany, Denmark, Norway, Holland, Spain, Finland, Portugal, Ireland, Switzerland, France, and Yugoslavia.

The last time I saw Rick was back in 1985 - just a few short weeks before recieving the tragic news that he, his fiance Helen Blair and his entire band had been killed in a plane crash on New Year's Eve. We had travelled over to see Rick at the Manchester Apollo for his concert there, and had arranged for him to meet with us and some club members backstage after the show. We held this meeting in the press room and there were maybe 30 members there when Rick and Helen came into the room, Rick holding a can of coke, and there followed a good 45 minutes of general chat and photo calls. Rick was fantastic! He really entered into the occasion, and generally was totally relaxed. In the end, he didn't want to leave us, and it took the theatre management to come in and tell us they were waiting to "lock-up"!

We went downstairs after saying farewells. Rick told us he would see us the next Spring as he was planning a series of concerts over here with Fats Domino, and that was that - so we thought! We were all milling around outside the theatre saying our personal farewells when Rick came out of the stage door with his manager Greg McDonald ready to board the coach, and there followed a further 20 minute photo call and more conversation. As Rick was about to board the coach, he turned and faced me saying (with sandwich in hand) "...I'm reall hungry (laughing) - see you again soon Andrew"

Our lasting impression as we followed the coach to the motorway, was Rick and Helen waving to us as they went off toward Bristol, and we the opposite direction towards Preston. What a night - what a tremendous occasion it all was. We were literally on cloud nine travelling back home. We had taken some friends with us, and were still partying until 4.00am at home. Memories that will last forever!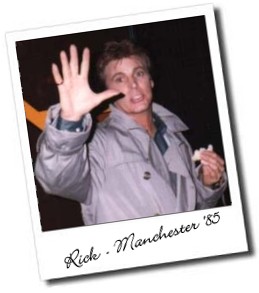 Our membership continues to grow, and we know there are countless Ricky Nelson fans like yourselves out there. Our club is a totally non-profit making organisation and is run with the full co-operation of the Nelson family. We are totally committed to keeping his name, music and memory alive. We encompass all age groups, for in the love of music there is no such thing as 'age'. Indeed, we have members in their twenties, right up to our oldest member, my father-in-law, who, for the past few years, has joined us on our annual "Garden Party" get-togethers, and decided he too wanted to become a member, and he's in his late eighties!

So why not consider joining our family - you will be made most welcome, Details on just how to join us can be found as you continue touring our site. I shall look forward to hearing from you, and please feel free to contact me for any further information you may require.