From: "TV Month" (June 1960)

One evening not long ago two young American millionaires, aged 23 and 19, put on a flawless flying trapeze act in a circus tent in Los Angeles, and in doing so made strange history. The two boys were none other than the Nelson Brothers, celebrated Rick of the rock 'n' roll records, the movie "Rio Bravo" and the "Ozzie and Harriet Nelson" television series, and his elder brother Dave. Never in the story of American show business had a star of Rick's stature risked life and limb on a flying trapeze. Unlike former circus acrobat Burt Lancaster, the Nelson Brothers had no circus tradition behind them. Nor was their acrobatic stunt done for a movie, where doubles are used for the long shots and the close-ups of the trapeze itself are filmed within a foot or so from a very steady floor. Had the boys gone crazv? Was this a manifestation of an idle "we'll show 'em" mood? Nothing of the sort.

The debut of the Nelson brothers at the Great Western Livestock Show in Los Angeles was sprung as a surprise on the thousands who had settled around the arena to watch a circus in action. It was a calculated presentation that had no ingredients of a publicity stunt or any other stunt for that matter, and had been carefully prepared. In fact, the parents of the two boys, Ozzie and Harriet Nelson, were in the audience. They watched more breathlessly than the other spectators as the brothers flew through the air-Dave the "catcher," Rick the "flier" but they knew the act before-hand. Dad and Mum had watched their sons rehearse under the top of a huge empty soundstage next to the one on which the Nelsons' TV series is filmed. It had been specially converted for the brothers' flying act."It was Dave's idea," Rick recalls today. "I simply went along." The circus run over, the brothers repeated the same act in an episode of the Nelson family TV series which was seen in America in late January. The show caused a furore around the nation. Rick's teenage fans hung on with bated breath as they watched their singing-idol-turned-acrobat swing from a trapeze, to be caught by brother Dave hanging upside down from another, in a traditional flying trapeze act. Two weeks after the show, as a new kind of fan mail began pouring in, with Rick's fan clubs imploring him to be careful, Dave set out for Hawaii for another two-week circus stand. Rick went along, but only for the ride, and then stayed on for a new motion picture in which he has a second lead, "The Wackiest Ship in the Army." By the look of things since then, brother Dave is taking his circus career seriously.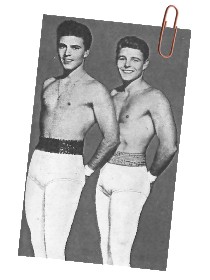 The background story is deeply human. Ever since the brothers joined their famous parents on the Nelson family radio show 11 years ago, Rick and Dave .Nelson have been a team. "There aren't two brothers who are as devoted to each other as these two," Ozzie Nelson says proudly. What with the television adventures of the Nelsons stretching out over eight years of weekly coast-to-coast shows, the two boys grew up right in front of their multi-millionaire audience. No attempt was made to keep the two boys at a certain age and to replace them as they grew out of their roles. The writer of the series, who happens to be dad himself, made sure that his new episodes fitted the boys as they grew older, taller and stronger. Eventually, one evening it happened. Rick, who had developed a pleasant singing voice, had been given a song to do, written into the script. The morning after the network was showered with calls, telegrams and letters from viewers. On that day a new rock 'n' roll star was born: Ricky Nelson. His parents, also brother Dave, had to step aside. . . . Since that day in May, 1957, Rick Nelson has acquired international rating as a rock 'n' roll and popular ballad singer. He has cut four albums, all of which made the top ten in popularity in the U.S. Of the ten single records he made six earned the gold record trophy for passing the 1,000,000 mark. Total sales of Rick Nelson records by now have exceeded 13 million. The records have showered a rain of gold on the young boy to the tune of 1,000 dollars a week in salary from the record company, Imperial Records, plus the usual royalties. In addition, Rick became a "hot" concert artist, wanted for personal appearances all over the country at fees of additional thousands of dollars a week. To Dad Ozzie, who has managed and mastermined the four Nelsons since the radio service started, Rick's special career has become an important sideline, even more lucrative than the popular TV series itself. Brother Dave? Somehow, the older Nelson boy was lost in the shuffle. Dave couldn't sing. Nor did he possess a magnetic personality like Rick. He was good at acting, but he didn't register as especially outstanding. "It wasn't fair," says Ozzie Nelson, "but these are the ways of fame." It hurt dad and mum to see Dave pushed into the background, but it hurt Rick even more. Then, last year while working for Allied Artists, "The Big Circus", Dave discovered his calling. Cast as a "catcher" in an aerialist act, he found that he could do what was required of a "catcher" without resorting to tricks or help from a stuntman. The aerialists in the picture, were Del and Babs Graham, stars of "The Flying Viennas" trapeze troupe that appeared with the Ringling Circus for three years.

The Grahams had been hired to "double" for the stars, including Dave Nelson, and to serve as technical advisers on the picture. "Dave showed so much natural ability as an aerialist," Del Graham recalls, "that when the film was finished we offered to stick around." Dave became a Graham protege. He practised with them every weekend and occasionally during the week when he had no TV scenes to film. "His progress was amazing," Graham says. "It was so unusual that one day I told him that if he'd ever want to join my troupe as a 'catcher,' the job was his. So he said, 'What's wrong with right now?" Flying through the air wasn't exactly Rick's cup of tea, but exposed to his brother's enthusiasm and realising that at Iong last Dave had found himself, Rick decicded to trail along. Dave's obsession had separated them. It was bad enough that Dave had moved into a bachelor house all his own while Rick was continuing to live with their parents. Even if Rick was spending more and more nights in Dave's house he missed his brother forever away at circus training. He had to join Dave.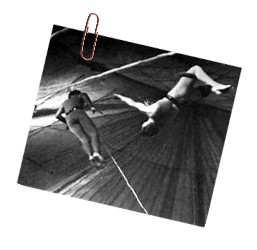 Thus the brothers found themselves reunited on a flying trapeze, with Rick busily catching up with Dave in hours upon hours of practice. Rick became the "flier" of the team. What about their parents? "I never worry about what Dave and Rick are doing," says mother, "when they have control of their actions." Adds Harriet Nelson with a brave smile, "I never worry about them. They can take care of themselves." Dad? "They're safer up there," says Ozzie Nelson, "than at the wheel of a motor-car on a highway down here." Even if they were worried at first they wisely decided not to interfere. Dad, who had that private circus arena built next door from the Nelson's TV home is demonstrating his faith in Dave's ability as "catcher", a "catcher" is much more important than a "flier", by refusing to take out additional insurance. Of course, even if the brothers break a limb they don't need insurance money, they've accumulated plenty of their own. The two probably are the richest bachelors in Hollywood today. Meanwhile, ever since that January show, more and more fan letters are arriving at the Nelsons' own private post office at General Service Studios (where they employ five postal clerks) addressed to . . . Dave Nelson. It's newly-found acclaim for brother Dave. Rick, who averages 9,000 to 11,000 fan letters a week couldn't be happier about it. "Dave deserved it," he grins, "even if he almost broke his neck to earn it!"