Wow! What a great, fantastic weekend was enjoyed by all present, especially as we had a number of members joining us for the frist time in Guy Clover from Cornwall, Tony Martin and ex-patriot from Italy, and Alan Blundell from Essex—and these were joined by Alan and Sandra Hodges from Wales, Aileen Hughes from Glasgow, and Ann Theriault from the USA—who we met for the first time in America in October. So, together with Daniel and Maria from Portugal, and Brith and Arild from Norway we had a truly International company—with a common love in Ricky Nelson. We all met up in the Lismore Hotel Friday afternoon, and after a lovely meal met in the function room set aside for us and just chatted and listened to Rick's music until well after midnight. Saturday was a free day to do some sight-seeing, where some took the opportunity of looking round Canterbury and it's awesome Cathedral before meeting up once again for the evening meal.

Following the meal, John Hutchinson once again did our annual quiz quite admirably, and then everyone just seemed to want to talk and look at photo albums and the like, and then Guy and Arild got their guitars out that they had brought with them (remember, this was the first time they had met) and after 30 minutes of 'practicing' together in the now empty dining room, they entertained us for maybe an hour or so with a host of ricky songs. It was GREAT. My 79 year old father-in-law was with us once again—his 3rd time now (as was the mother-in-law) and as usual he was usually the last to go to bed!! But everyone loves his and he's well part of the family, and singing along with us. Sunday, Julie and Andrew had organised a day trip to Hever Castle, the birthplace and home of Anne Bolyn on of Henry V111's wives, and that was a really special treat enjoyed by us all, and the trip pased all too quickly.

After dinner, everything was cleared away for our evening's entertainment in the shape of Darrel Higham and the Enforcers. This was the first time I had seen them let alone hear of them, and boy were they GREAT! - absolutely fantastic. They play pure rockabilly of early/mid/late 50's music, and their interpretation of some of Rick's songs was fabulous. They played two spots, and I think it was two encores. I was told later that Darren had been playing the guitar since he was 12 years old (with apologies if I've got that wrong), and it certainly showed. A true professional, a superb singer, and an outstanding guitar player. WHAT A PERFORMANCE. Credit must also be given to one of the finest Slap Bass players I've ever seen, and a superb drummer to boot. It turns out that they are due to play a date only some 20 miles from me later from me, in Lytham St Annes in a few weeks time, so we aim to go and see them there. While the lads enjoyed a well earned rest with a pint or two, Guy and Arild set up to do a repeat performance of the previous night, and provided us with some great entertainment. In fact, I remember looking to my left while they (and the rest gathered) were singing Garden party, and there was Darrel standing a few feet away in a small group, singing away with the rest of us, complete with pint in hand. So too were a group of Julie and Andrews friends who had joined us for the evening. They were all part of Julie and Andrew's 'gang' from their rockabilly-swing dance classes, and BOY could they all dance. Superb, as was the excellent disco—a truly memorable experience for all.

Anyway, I digress a bit. Guy suddenly went up to Darrel after singing Garden Party to ask some quick advice from him about how to play a particular chord, he had only been playing the guitar a few months. Darrel (and the other two guys) were very supportive and appreciative of Guy's and Arild's efforts, and the bass player even came up and did a couple of numbers with them, and then Darrel came up for one on the drums, and THEN ended ups backing them up on bass!! (see picture below), and one of Julie & Andrew's friends went on the drums with them. This to me is what good music is all about. REAL musicians just want to 'jam' and play (and enjoy) music as often as they can. Rick always used to enjoy these kind of 'jamming' sessions—and it was so spontaneous and honest. Well done Darrel and well done your group and well done Guy and Arild and everyone else. We really enjoyed it. Thankyou. A Special vote of thanks here to Julie and Andrew for all their efforts, not just for this years, but for last year's also. It's just a shame that business commitments have regretfully meant that they will not be able to organise these in future. They want me to pass on their thanks for all the support they have received and for the HMV vouchers. But they are delighted to know that Harry Kershaw is back with us and will be organising next year's get-together. This was announced on the Friday night to a tremendous reception, so we eagerly await it.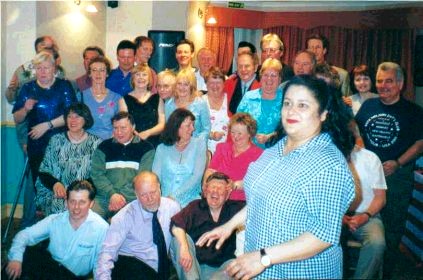 We weren't done yet as we all got together to pose for the annual group photo. What a motley bunch we all are, as I think you will agree, but a more loving, friendly bunch of people I have yet to meet, and I hope that this 'biased' report may encourage some more of you to join us for the first ime. As I have said, it was very encouraging and special to meet with those joining us for the first time. All too soon the weekend was over, and next morning it was time for us all to say our farewells—well almost! Syl and I had decided to travel home via Windsor and stay there for a couple of hours. Alan and Sandra decided to do the same on their way back to Wales as did Christopher Aston on his way home to Cornwall, so it was a convoy of three cars that set off from Folkestone and arrived an our and a half later in Windsor where we enjoyed a walk around and lunch in a great little restaurant, before FINALLY saying our farewells........... until next year.